Top 19 luxury palaces and 5 star properties to plan a destination wedding in Jaipur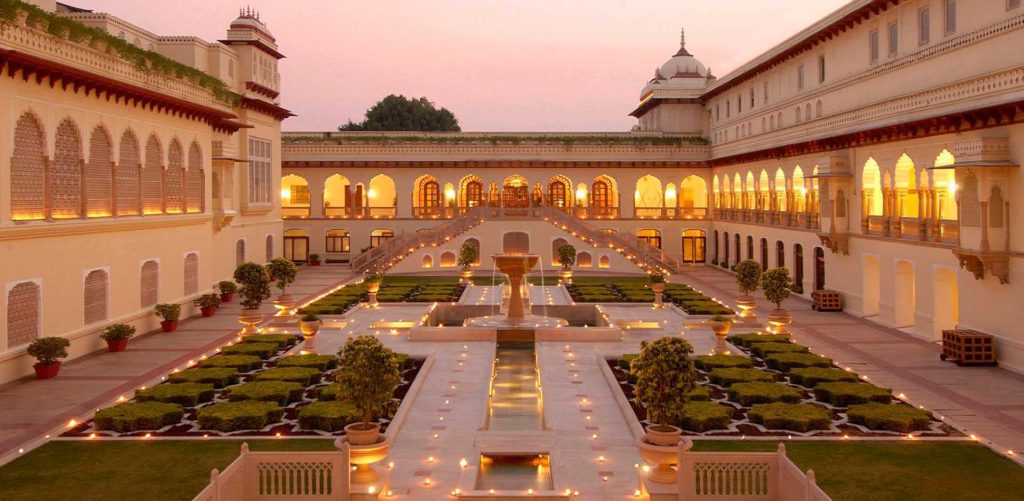 Planning a destination wedding? Jaipur is one city that offers beautiful resorts and heritage properties. From the grandeur of palaces to luxurious resorts, you will find everything out here in your budget. If you are planning a vintage style wedding or a royal one, Jaipur as a destination has a lot to offer. Famous for their hospitality, you will find everything in this city, from modern and huge resorts to palaces and forts.
Here is a list of destination wedding properties, Shaadifever recommends:
1. Alila Fort Bishangarh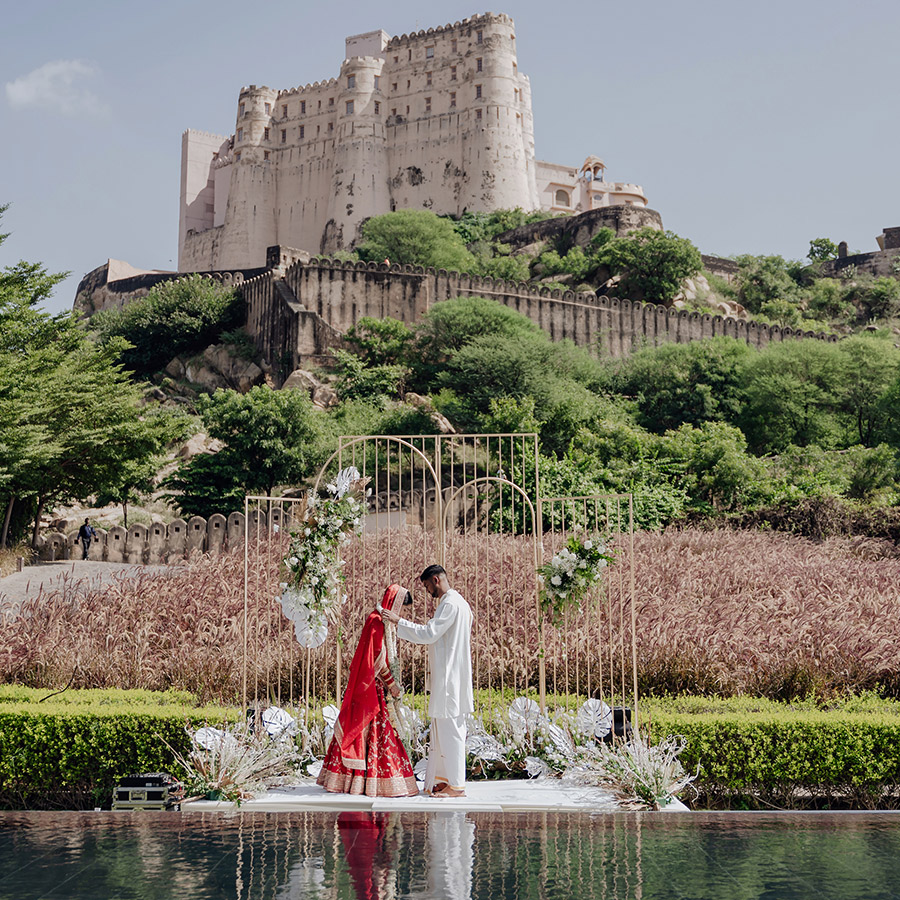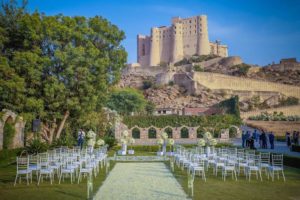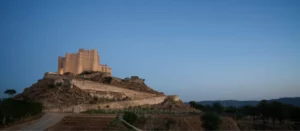 A 233 old fort that offers indoor and outdoor locations for every meaningful ritual. Surrounded by Aravali Hills, Alila Fort Bishangarh provides a majestic locale for grand meetings and events. The property has 15 creative spaces that can be dressed to meet your gathering's unique needs to state-of-the-art technology and personalised services. The property has 59 opulent rooms and suites.
Also read- 5 resorts for a budget destination wedding in Jaipur
2. Oberoi Rajvilas, Jaipur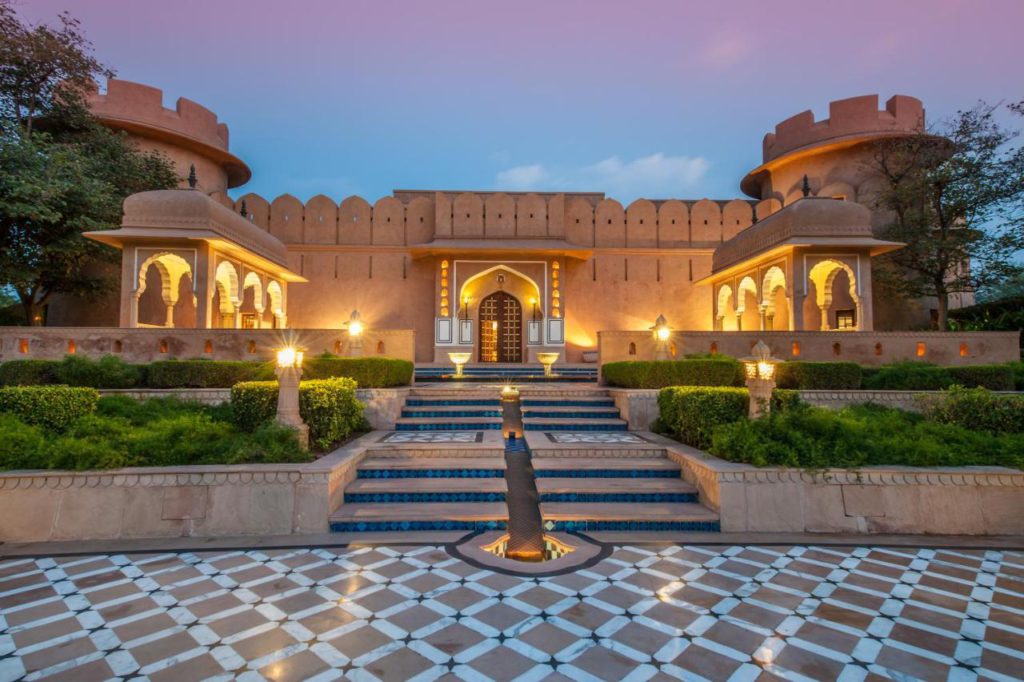 The Oberoi Rajvilas in Jaipur is one of the most sought-after banqueting facilities in the city. The destination wedding venue can accommodate a grand guest list of 800 guests and the banquet facilities are modern and luxurious. The Oberoi Rajvilas. Spread over 1,29,499 square metres of beautifully landscaped gardens, with traditional architecture, flaming mashaal torches and reflection pools. Rajvilas has 71 rooms, tents and villas set in extensive landscaped gardens
3. Rambagh Palace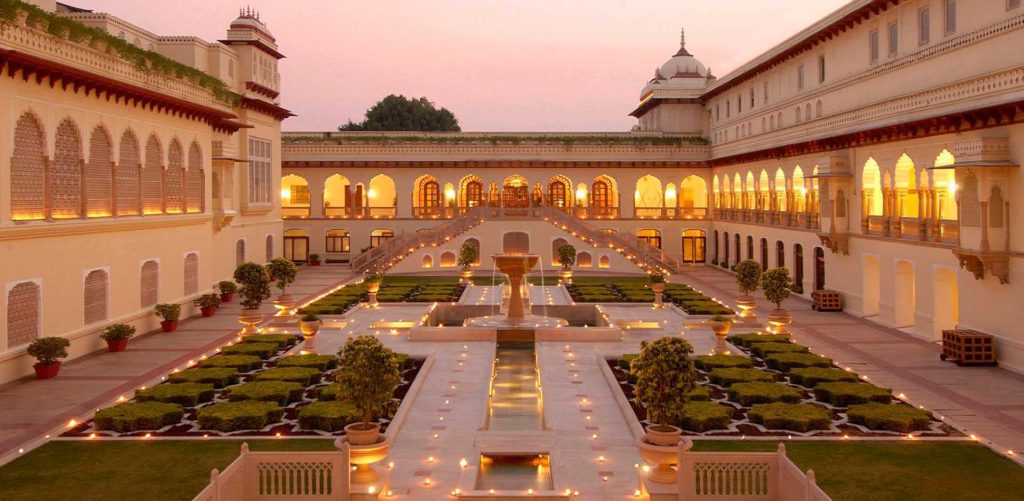 Rambagh Palace is one of the best royal venues in Jaipur and was the Maharaja of Jaipur's residence till 1957. The Taj Group of Hotels runs this Palace. It is spread across 47 acres of land close to the city market and airport. The Palace has 45 rooms and 33 suites for accommodation, overlooking stunning and beautiful views.
4. Jai Mahal Palace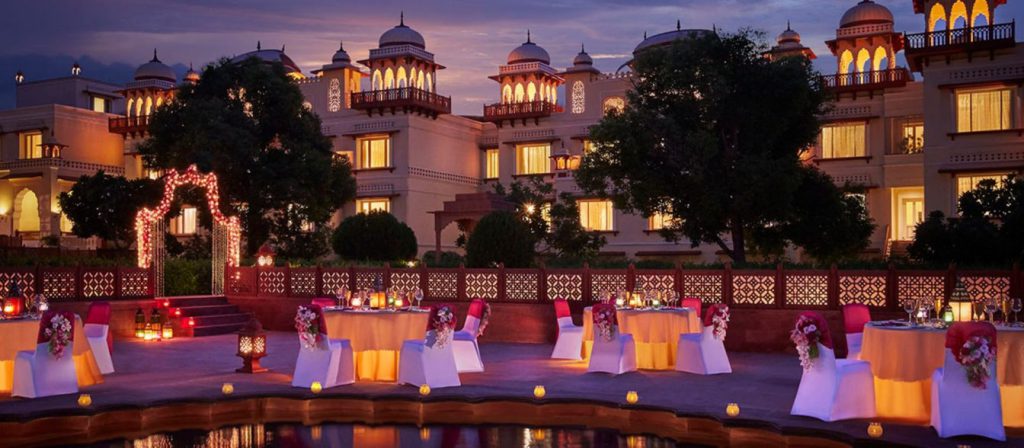 Spread across 18 acres of beautiful Moghul gardens, Taj Jai Mahal Palace, heritage property dates back to 1745. The property has 94 rooms and six suites. It is a one-stop destination for all your needs for an exemplary and luxurious wedding venue and has a plethora of services and facilities to offer and make your wedding a gala affair which is worth remembering a lifetime. The venue can accommodate 500 to 3000 guests at its ballroom.
Recommended read- 7 beautiful resorts in Goa for a destination wedding under 15 lakhs
5. ITC Rajputana, Jaipur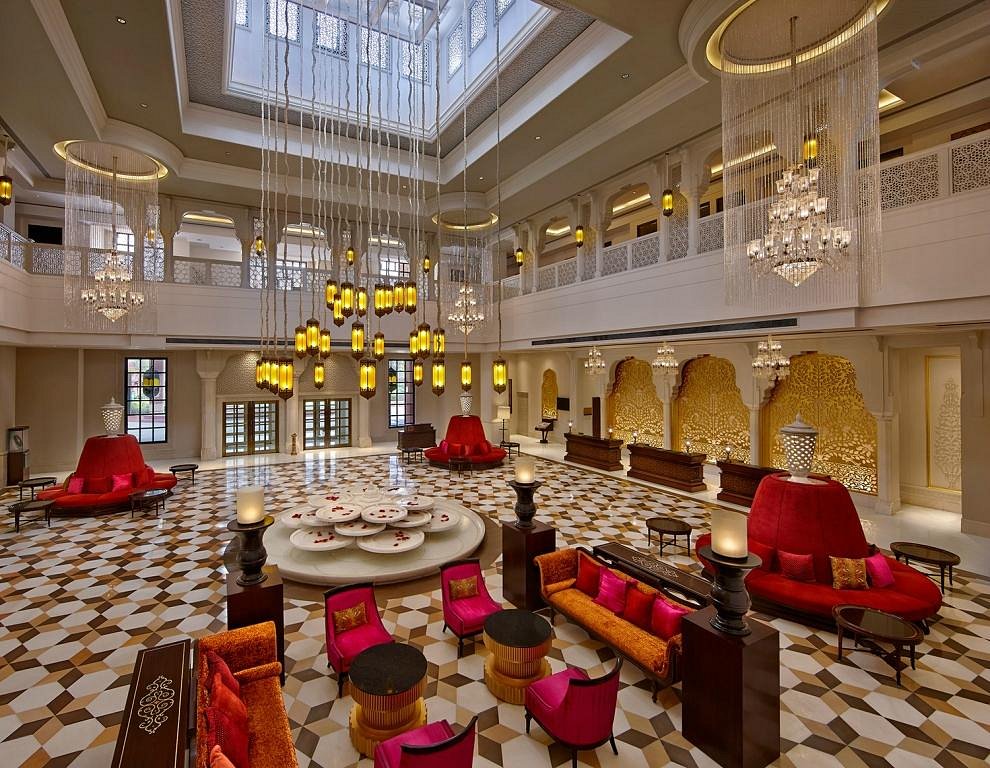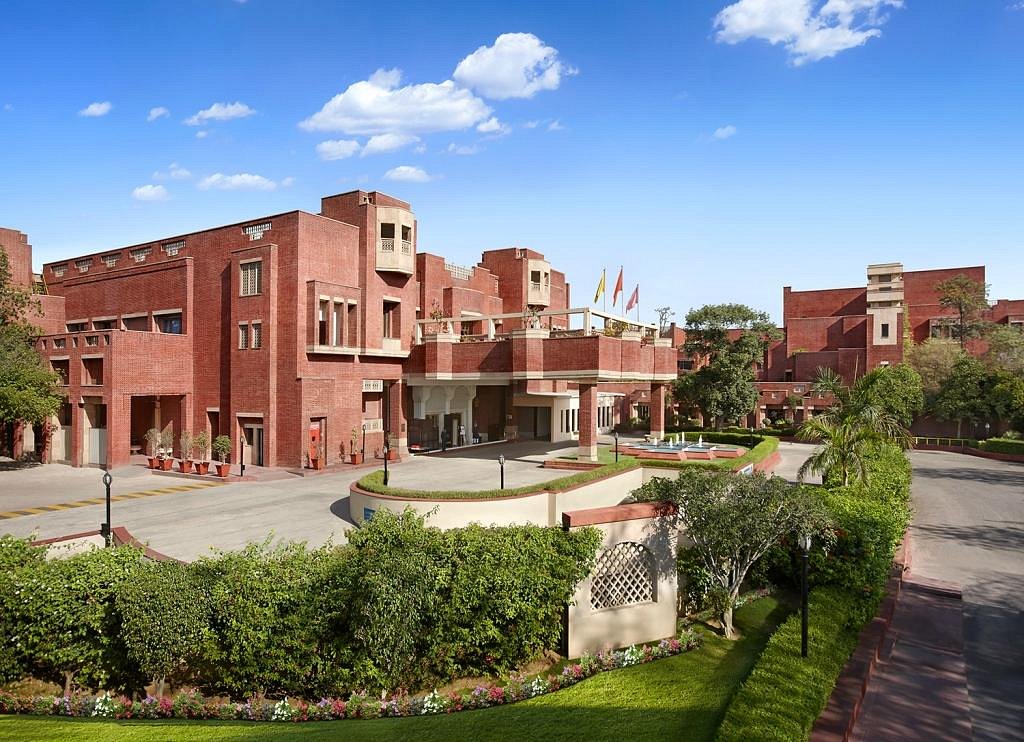 An open air venue offering the magical charm of Jaipur can accommodate to 550 guests. ITC Rajputana is a legendary 5-star luxury hotel in the heart of Jaipur . The impressive location that was once the estate of the 18th century Prime Minister of India, was later built into ITC Rajputana, where the guests are welcomed in a royal atmosphere. The property hosts 218 guest rooms, 17 suites, 5 indoor event spaces along with their open-air venue – Hawa Mahal.
ITC Rajputana can also provide a unique culinary experience to your wedding guests with the lavish and rich food of Rajasthan at Jal Mahal along with the authentic cuisine from the North-west. Also has a pillar less hall , can take up to 450 people in theatre style and 550 people for a reception.
6. Sawai Man Mahal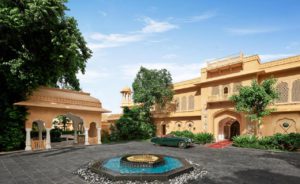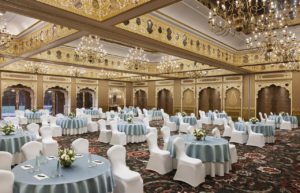 One of the most popular venue at Jaipur, Sawai Man Mahal has both indoor and outdoor space, which can host up to 400 guests. There are 51 rooms at the property, the suites have a private courtyard.
7. Buena Vista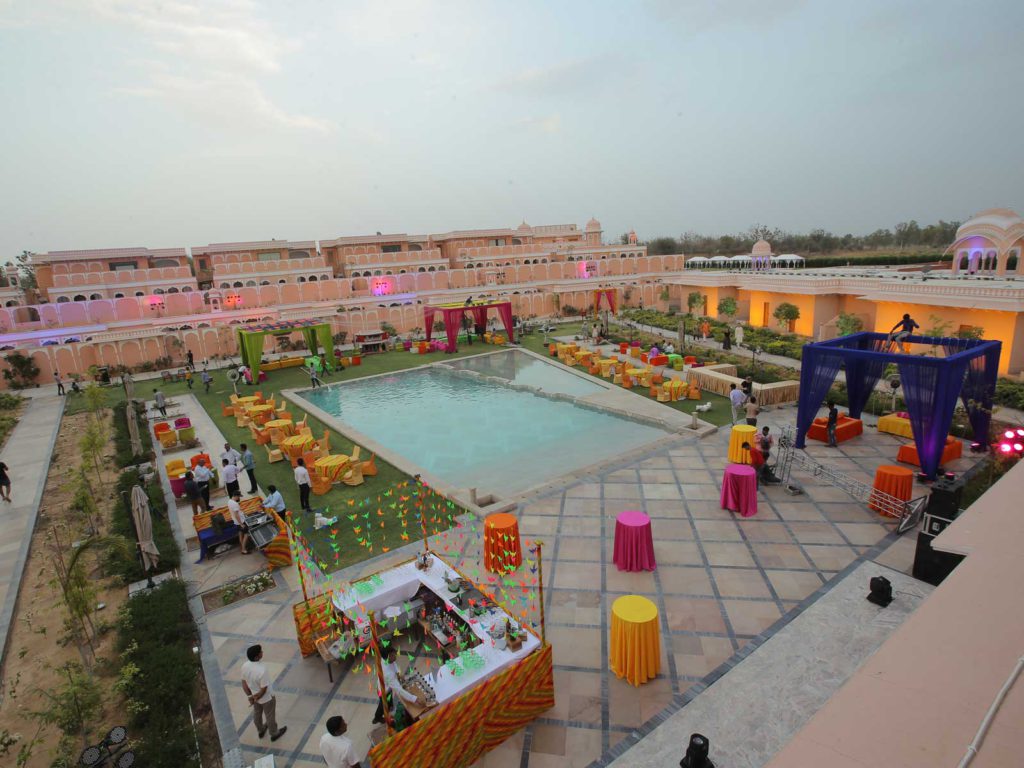 Nestled in the lap of the Aravali mountains is the Buena Vista Luxury Resort. With 2 banquet halls, 48 luxury villas with private pools, this property exudes luxury. With the average room price at Rs 18,000 per night, this is a fabulous luxury wedding destination in Jaipur.
8. Fairmont ,Jaipur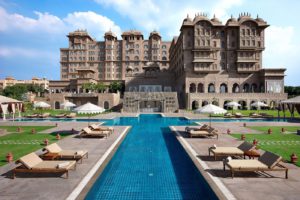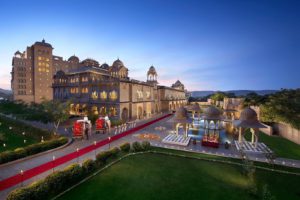 Fairmont Jaipur is an ode to the pink city through its intricate architecture and decor inspired by the Mughal dynasty and Royal Rajputs of yore. Nestled amongst the majestic Aravalli hills all 245 rooms and suites reflect a perfect blend of traditional Rajasthani decor & modern amenities. The opulent accommodation is complemented by an array of eclectic dining options; from the vibrant and bright all-day dining restaurant, Zoya, to the regal Zarin, celebrating the Royal Cuisines of India, and more.
Be it a stop-over, a grand wedding, a weekend getaway or a business stay, Fairmont Jaipur is one destination that caters all your needs.
9. Devi Ratn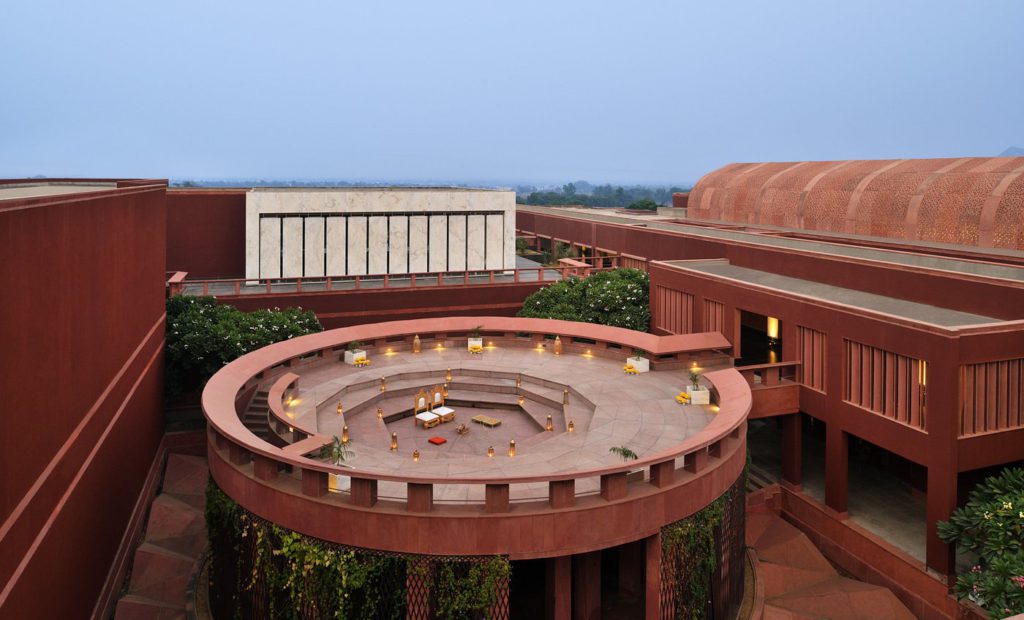 Devi Ratn, an IHCL SeleQtions hotel is known for its contemporary architecture and design, inspired by the concept of a gemstone. It offers a luxurious and unique setting for weddings and other events. The hotel has an inventory of 145 rooms and suites, offering views of the surrounding Aravalli hills.
10. Leela Palace, Jaipur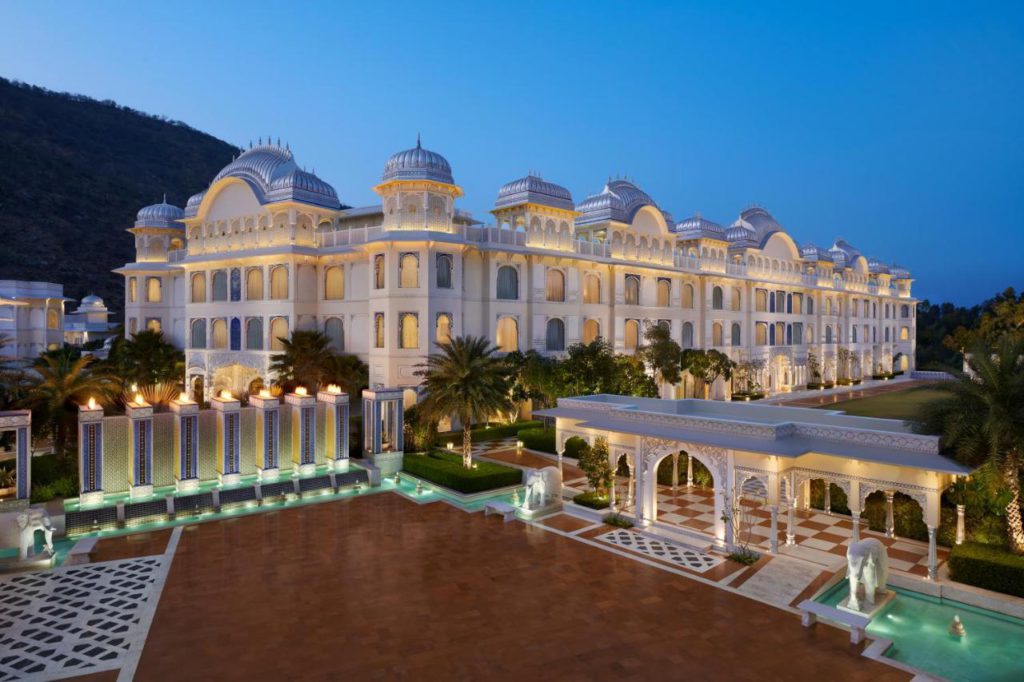 The Leela Palace Jaipur boasts of over 50,000 square feet of indoor and outdoor event space including a stunning pillar less Grand Ballroom, and verdant lawns providing a superlative venue for iconic celebrations, memorable weddings and bespoke events. The palace has with 200 Palatial rooms and suites.
11. The Lalit, Jaipur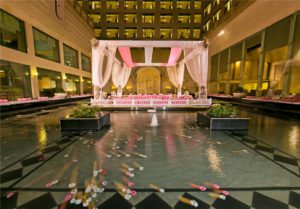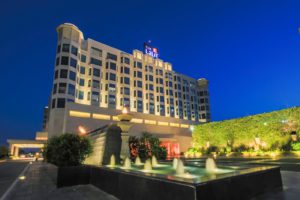 The Lalit Jaipur provides the perfect ambience for a colourful Indian wedding. The indoor and outdoor venues range from Crystal Ballroom to the beautifully landscaped Party Lawn and the lovely central courtyard surrounded by water bodies. The Lalit Jaipur boasts of 231 spacious rooms and suites.
12. Tree of Life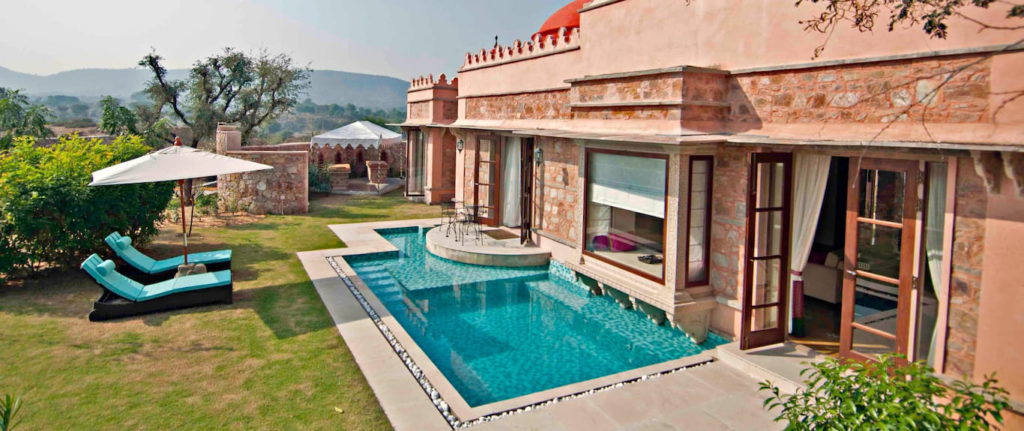 The Tree of Life Resort & Spa, Jaipur, is one of the best boutique resorts in Jaipur, located in the outskirts of the city and thus provides you with the serene ambience away from the bustling city making it an ideal space for an intimate wedding. Tree Of Life Resort & Spa has multiple spaces that can accommodate 450 guests. This resort in Jaipur features 13 luxury villas set around 7 serene acres of land.
13. Samode Palace
Samode Palace, Jaipur is a lovely venue to host your wedding functions. It is located in Samode Market and on Samod Road. Embellished with fine Indo-Saracenic Architecture, Samode Palace is an ideal Indian and Mughal style blend. Located about 45km away from the state's largest city- Jaipur, Samode Palace is a 475-year-old architectural wonder. There are 43 rooms for guests at the palace.
14. Lohagarh Fort Resort & Spa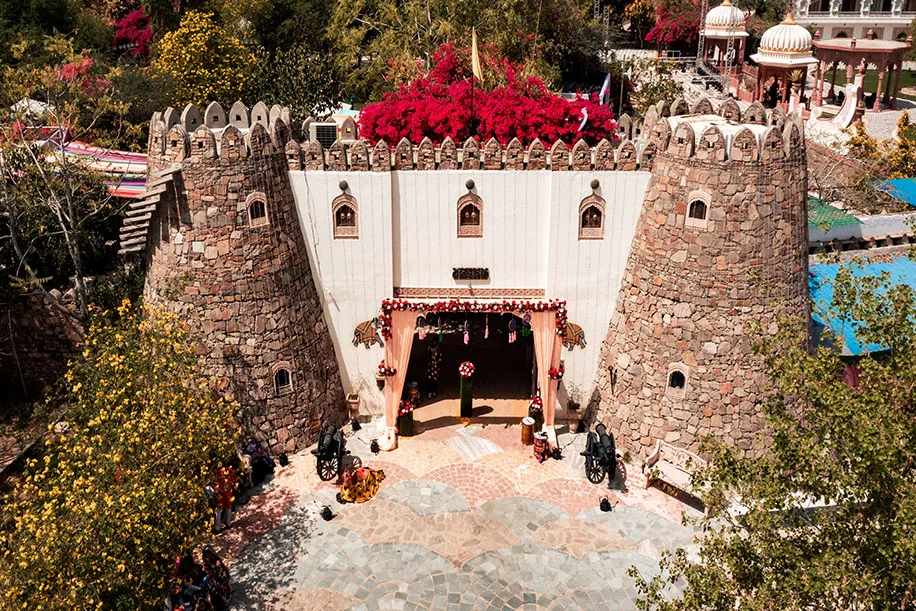 Lohagarh Fort Resort & Spa offers a dreamy blend of luxury and nature for undeniably magical wedding celebrations. Equipped with 65 well-appointed rooms and beguiling indoor and outdoor venues with a capacity of 25-800 pax, the boutique resort would frame your special moments, be it intimate or grand.
15. Alsisar Heritage Haveli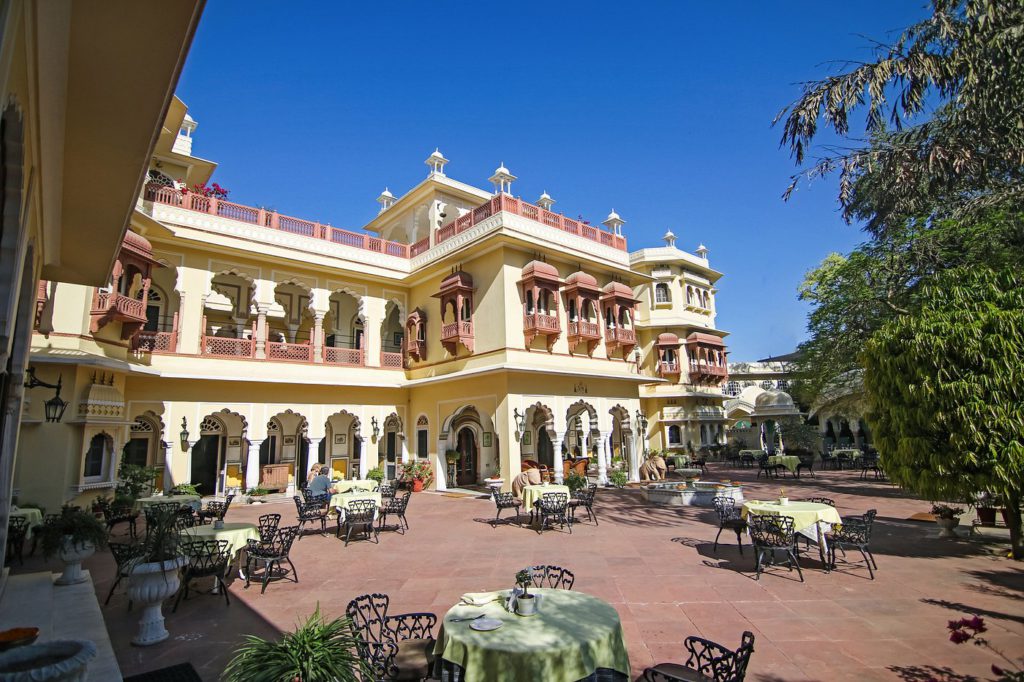 A heritage hotel, Alsisar Haveli is located in the heart of pink city Jaipur, 10 km from the Amber Fort. This charming property in rajput architecture style, originally built in 1892 as a noblemans' home has now been converted to a heritage hotel. Alsisar Haveli has an assortment of 45 tastefully crafted heritage style rooms.
16. Mundota Palace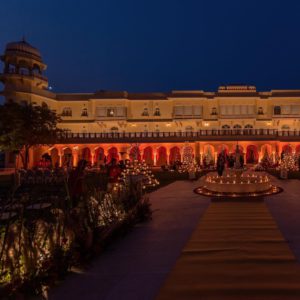 Mundota Fort and Palace– A 14th century war fortress converted into an intimate luxury hotel. The property consists of 125 luxurious rooms between the palace and fort.
17. Rajasthali Resort & Spa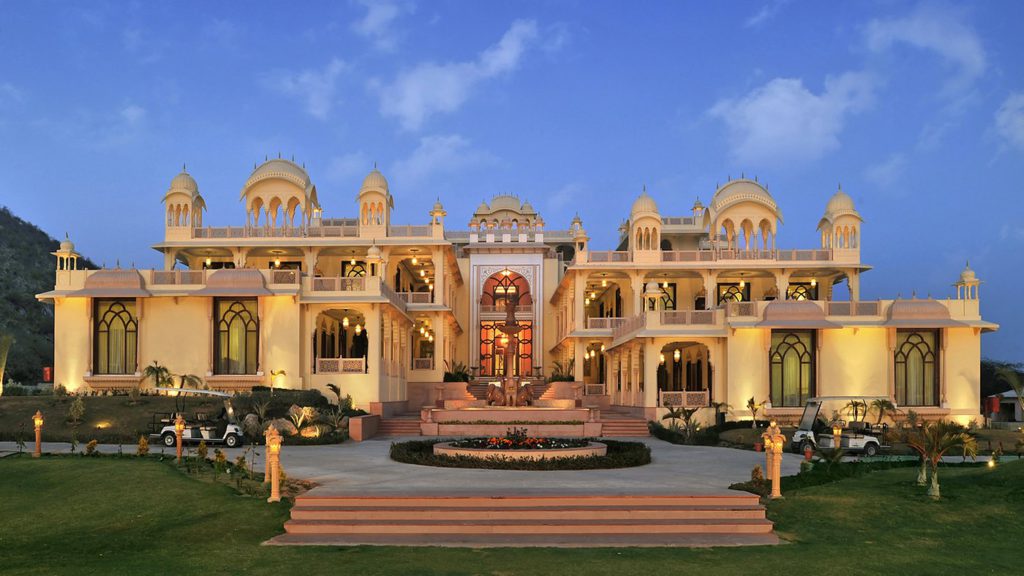 Rajasthali Resort & Spa represents the amazing conjunction of kingly Rajasthan and quaint Aravallis. The stunning property has 92 luxury rooms and suites with all modern amenities. The interior area can easily accommodate up to 400 visitors at a time, while their lawn along with a poolside can also accommodate 1400 people and ensures that you are in a big and comfortable environment. This resort is ideal for a destination wedding with a huge guest list.
18. Chomu Palace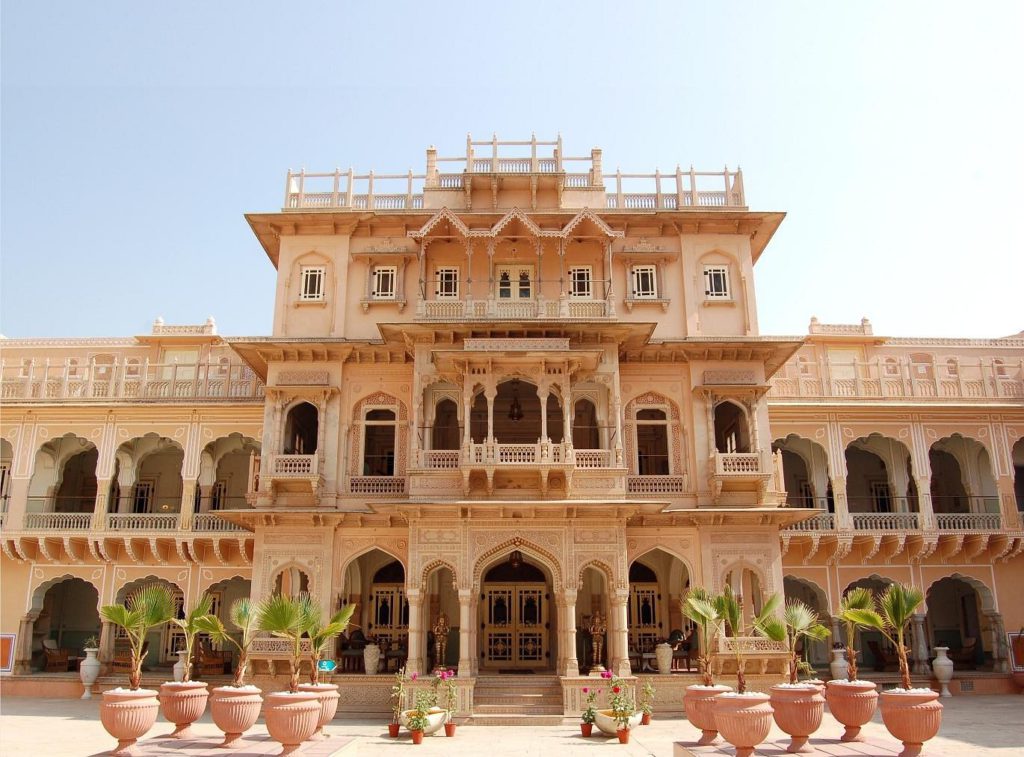 Chomu Palace is an elegant fortified palace hotel which revives the gracious lifestyle of the princes of Rajasthan. Located 33 kms from North West of Jaipur towards Sikar road, is easily assessable by road. The former Chomugarh Fort was built by the descendants of King Prithvi Raj Chauhan and has now been restored into this marvelous palace hotel. Equipped with all the required amenities and top-notch opulence, the palace offers 100 resplendent suites which makes it perfect for a destination wedding.
19. Diggi Palace
The resplendent Diggi palace was built by Shri Thakur Saheb Pratap Singh Ji Diggi of the then ruling family of Diggi principality in 1860. Situated in the heart of the city on 18 acres of land amidst an array of fresco painted 'Deodis' (doorways), 'durbars' (banquet halls), 'Havelis' (palace wings) and lush green gardens; the Diggi palace is a tranquil haven offering luxury and hospitality that is pure and unpretentious. The property has 70 well equipped rooms.
While looking for a venue, one has to keep a few things in mind-
Make sure that you see all the gardens and pool side area along with the banquet to have a seperate venue for all your wedding functions.
We recommend hiring the decorator mentioned in the panel, sone hotels would not allow an outside vendor due to hotel policies. In that case, hire a planner or create a pin board with decor ideas for all your wedding functions.
Though Jaipur is a food paradise, but you must try the dishes that you are planning to serve your guests. As no one wants the buas and fufas to crib about it later.
Always look for a venue which has goof flight and rail connectivity along with cab facility in the city, it will make your transportation work a lot easier. If you are planning your wedding by yourself, this tip would come in handy. Plus it will be easier for your vendors to travel, if you are planning to call them from other city.
References- Trip Advisor & Booking.com
Images Via- Trip Advisor, Booking.com, Instagram