Dori- Megha and Jigar's intimate wedding collection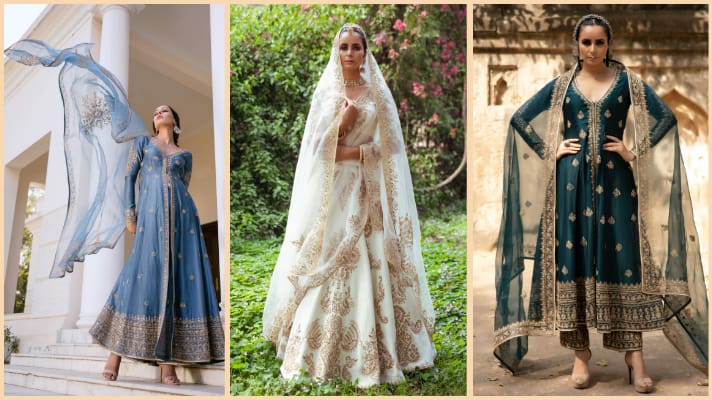 'Dori'- Megha and Jigar's intimate wedding collection is out now and we can't stop gushing over it! From pastel hues to beautiful hand embroidery, this collection would make a perfect addition to your bridal trousseau. Inspired bu Turkish architectural motifs and rich heritage or Rajasthani art, this collection would definitely make you go shopping. Scroll down below for all the details!
Dori- Megha and Jigar's intimate wedding collection
The collection 'Dori' is inspired by the rich heritage of Rajasthani art with complete relevance to Turkish architectural motifs. With a magnificent composition, this collection revolves around the traditional heritage of Rajasthani art surrounded by a breath of fresh air in its color palette, variety, embroidery, personality, and the experience they bring forth.
Exhibiting the play of colors with pastels and fresh hues, it infuses with dusty blue, fresh coral, dusty pink, aqua blue, gypsy teal, off white, dusty rose, yellow, wine, crushed mint, and light green with Turkish architectural motifs taking us back to the graceful nature of royalties.
The collection glorifies the dawn of spring-summer with relaxed silhouettes and comfortable fabrics including chanderi, munga silk, and organza, summarized with an artistic and highly detailed embroidery of Dori work, dull gold sequins, beads, and nalki work, illustrating the magnificent Rajasthani royal art brought back to life.A refinery of royalty and luxury for a modern woman.
Dori is the perfect amalgamation for an outdoor wedding or intimate celebrations making it an absolute choice with its lightweight and comforting couture, acknowledging the inner you with complete panache.
Also Read- Ananya Pandey walks the ramp!
About the brand
The Label Megha and Jigar is a California and New Delhi-based fashion brand, formed in 2013 with a vision to embrace the beauty of Indian Heritage by infusing the unique blend of embellishment and an aesthetic that is traditional and royal in its treatment, with a contemporary modern touch.
The label has spread its arms in Bollywood as well with renowned personalities like Kareena Kapoor Khan, Dia Mirza, Vidya Balan, Tabu, Rakul Preet, Sunny Leone, Urvashi Rautela, Neha Dhupia, Raveena Tandon and many more.
Label Megha and Jigar are available at both national and international stores.
Shop here- meghaandjigar.com
Fashion Updates:
For fashion updates and wedding inspiration, follow us on-
Instagram: Shaadifever, Facebook: Shaadifever
Mail us your wedding story at [email protected]