10 Last Minute Diwali & Bhai Dooj gifting ideas for your friends and family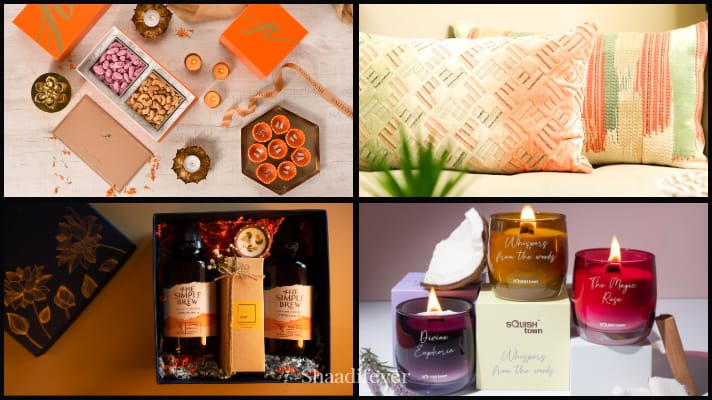 Diwali gifts are a gesture of love for your friends and family. A lot of us tend to shop for them in advance but fret not, we have you covered. We have some amazing last minute Diwali or Bhai Dooj gifting ideas for your friends and family. Stellar Jewellery pieces for your sister to surprise or DIY boxes to do some fun activities together. This Diwali, gift your loved ones something special and hatke.
Have a look at these gifting options for your last minute Diwali gifts.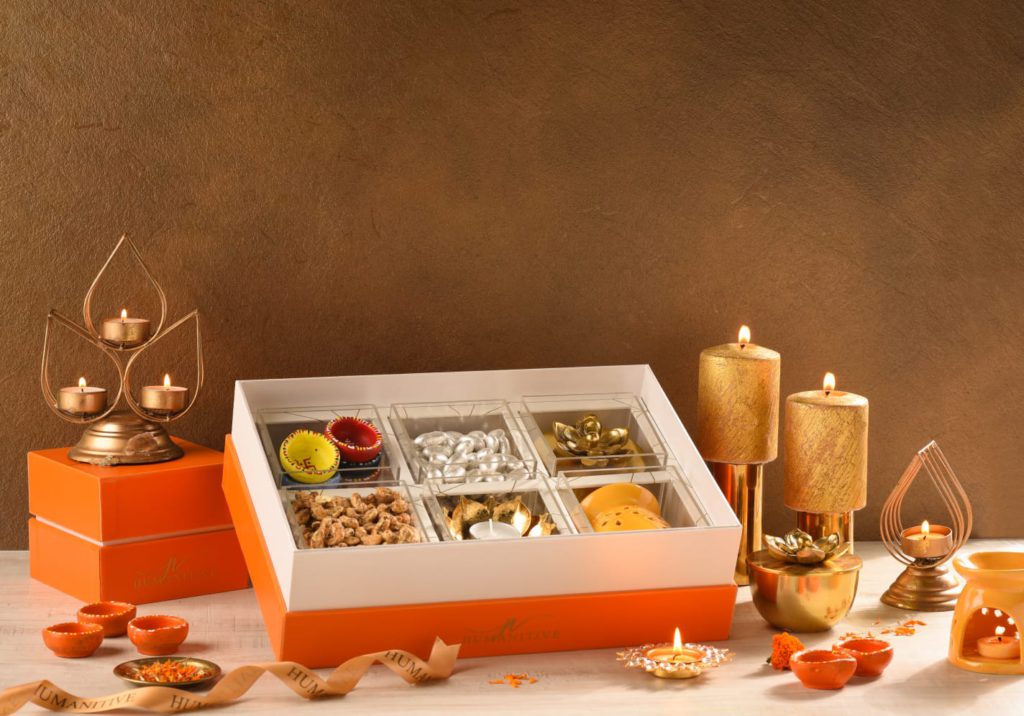 1. Diwali Grand Gift Hamper By Humanitive
This Diwali, bring your philanthropic side to the forefront with the luxury gifting brand Humanitive. They  have brought two different kinds of gift boxes, both of which allow the purchaser to make a charitable  contribution in addition to spreading joy and happiness to others. 
Their gift boxes include a donation kit and are brimming with items that can be used to decorate the  home, such as candles, accessories, such as scarves, pocket watches, and cufflinks, and edible items,  such as cookies between 3,900 and 6,500  Indian Rupees 
The Gift Hamper Includes
● Diya's – Vanilla Scent
● Tie & Pocket Square – Red Love Knot
● Green Tea – Royal Kashmiri Kahwa
● Almonds 
● Ganesh Idol 
● Cookies – Fortune Cookies
● Gift Box – Sponsor Physiotherapy Sessions for a destitute elderly for Rs. 1,000/- 
on behalf of your father 
Price: Rs. 6500
For more products, kindly go to this link: https://www.humanitive.in/product-category/ready-to-ship/
Recommended read- Festive wear ideas inspired by Bollywood celebs
2. Tangerine first Bio Jewelry Brand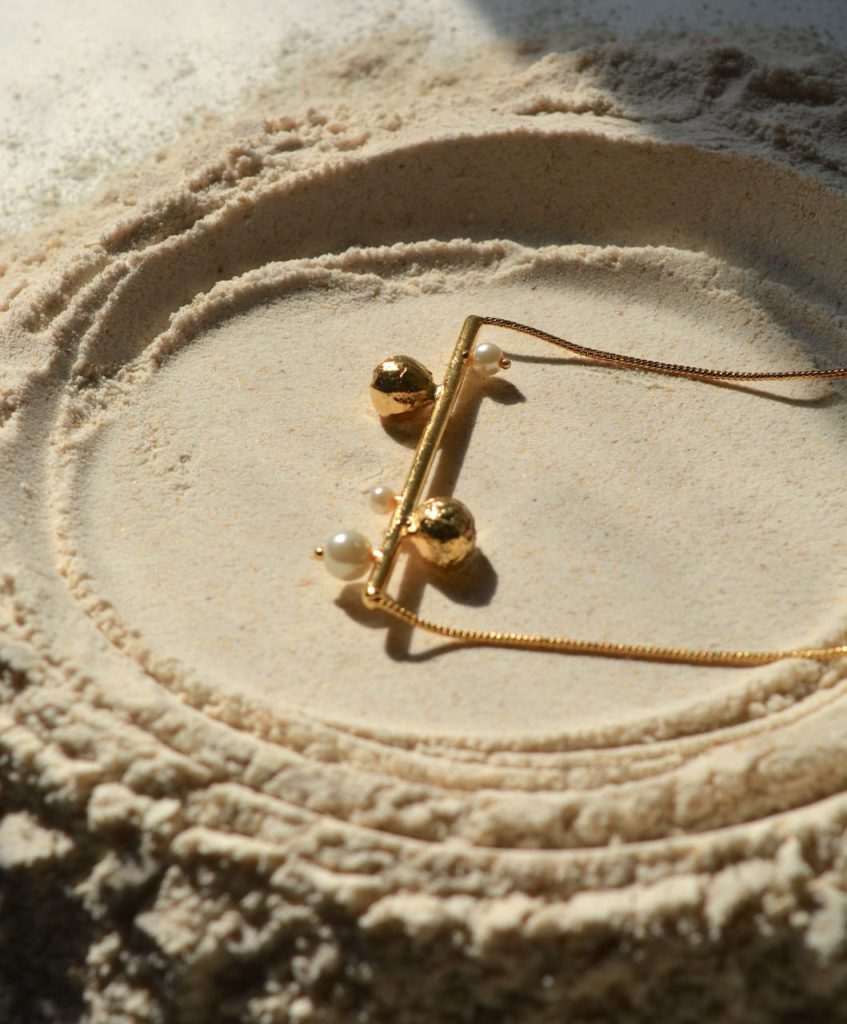 Tangerine, first ever Bio Jewelry Brand in India which is designed to work with 100% natural elements like seeds, spices, flowers, fruits etc.Tangerine offers a unique product which while retaining its fashion statement, has offered an alternative to the people who care for the environment and needs and aspirations of the future generation.
Offering jewelry that is sustainable, light weight, affordable and modern in its design approach. Each jewelry piece of Tangerine is handcrafted and As Tangerine jewelry is created by using natural elements, all the pieces are unique in its shape, size and property. Each element found in nature holds some value be it medicinal, nutritional or other health benefits.
Shop here- Tangerine
3. The Simple Brew- Limited Diwali Edition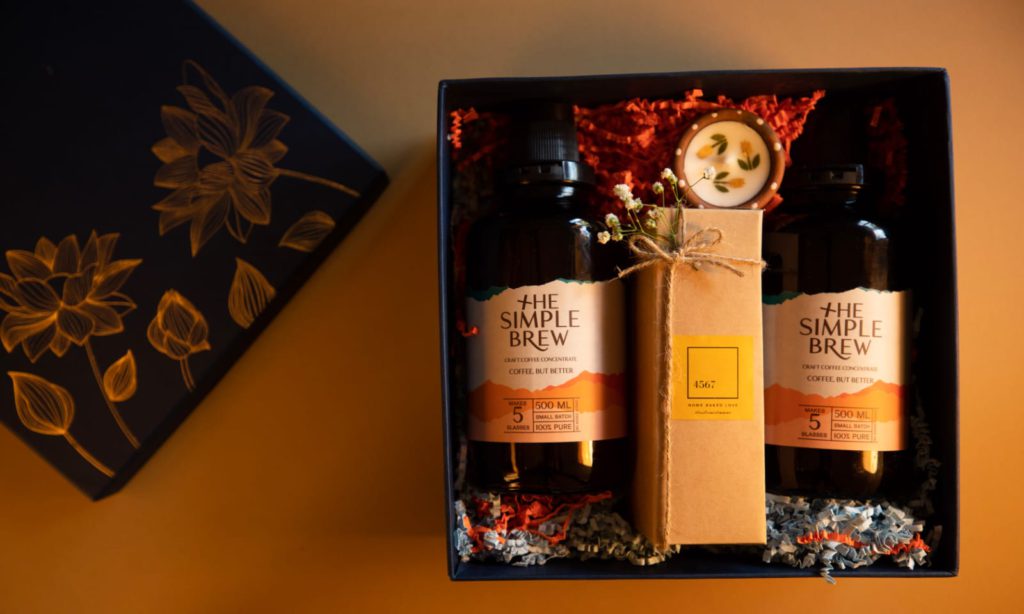 Celebrate the Festival of Lights by looking on the brighter side this year and do something different with  our classy TSB Diwali Brew Gift Hamper.
Gift your loved ones a brew that's easy and delicious and lengthen your game nights playing Blackjack  with a side of black coffee. Relish buttery masala chai madeleines or add our ambrosial almond  florentines to your collection of dry fruits for a sweet surprise!  Gift it to a friend, fam or even just treat  yourself!  Because why not? 
The TSB Diwali the gift hamper includes 500 ml bottles of each of our Single Double Brews. 
A decadent dessert box with chai flavoured madeleines, almond florentines baked by our friends at 4567, and a cute  little from Jaypore! Free delivery on all Diwali Brew Gift Boxes.
Price: Rs. 1500/-
Shop here- The Simple Brew
4. DIY Diwali Kits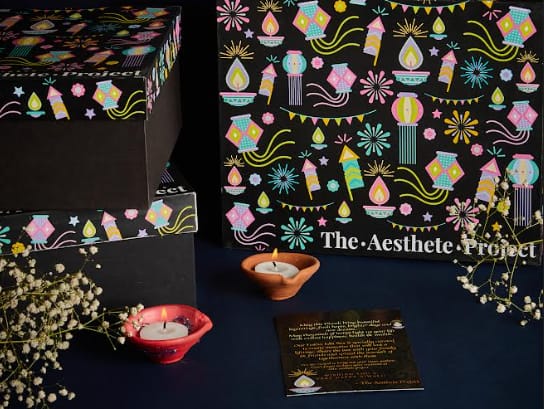 The Aesthete Project, kickstarted in March 2021, specialises in all things artsy, handcrafted and customized DIY boxes for every occasion. The Aesthete Project is all about bringing creativity right to your doorstep by providing everything you need to create a masterpiece. The kits range from concepts like Sip & Paint, Tie & Dye, The Baby Box, The Edible Art Box and the Cookie Box which are thoughtfully curated & suitable for gifting, an intimate gathering, team bonding event or corporate gifting. The Aesthete Project encourages you to explore this concept from the comfort of your home.
Shop here- The Aesthete Project
Price- Rs 2000/- onwards
5. On the go Jewellery for modern woman by Goldsmiths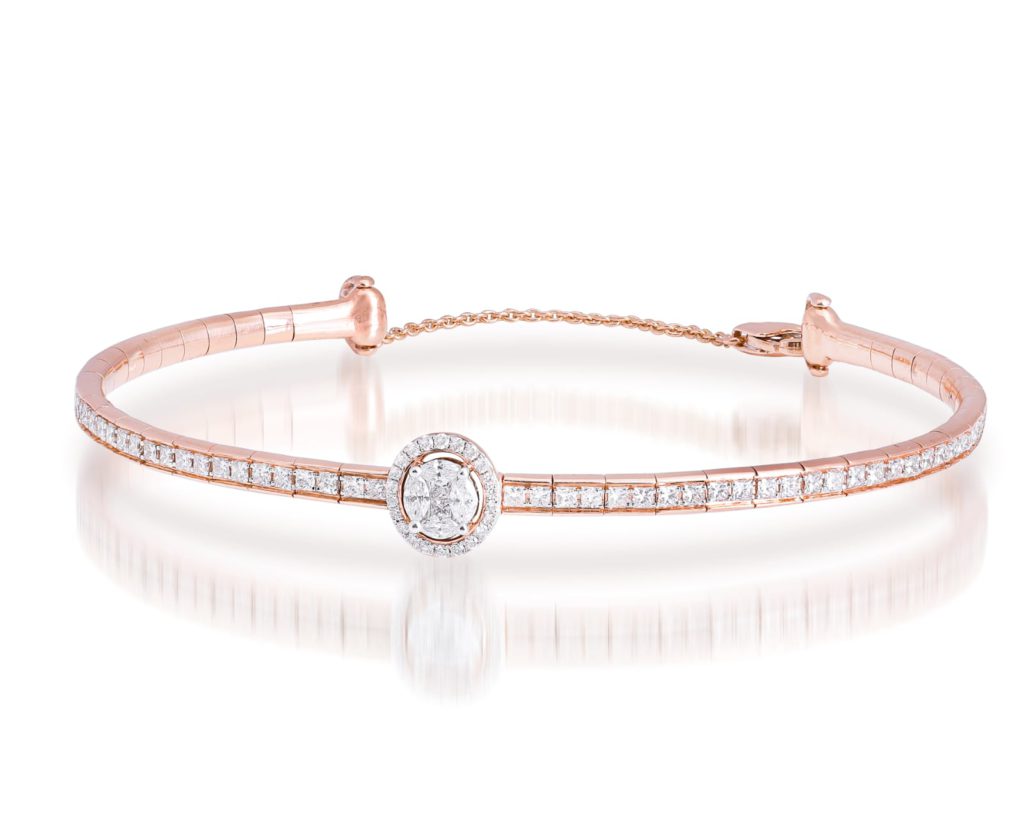 Goldsmiths is a handcrafted, contemporary, on-the-go jewellery for the modern woman. Goldsmiths offers a unique high-quality diamond jewellery shopping experience for the modern woman. The wide, mesmerising catalogue has been put together with great care and thought into refining each piece to make you feel special. From artistic to ageless, elegant to exciting, and powerful to playful—the charming collections at Goldsmiths never fail to dazzle and impress. The brand envisions to make the jewellery shopping experience more personal and meaningful.
Check out the designs- Goldsmiths
6. India's First Ever Virgin Coconut Soy Wax Candles by Squish Town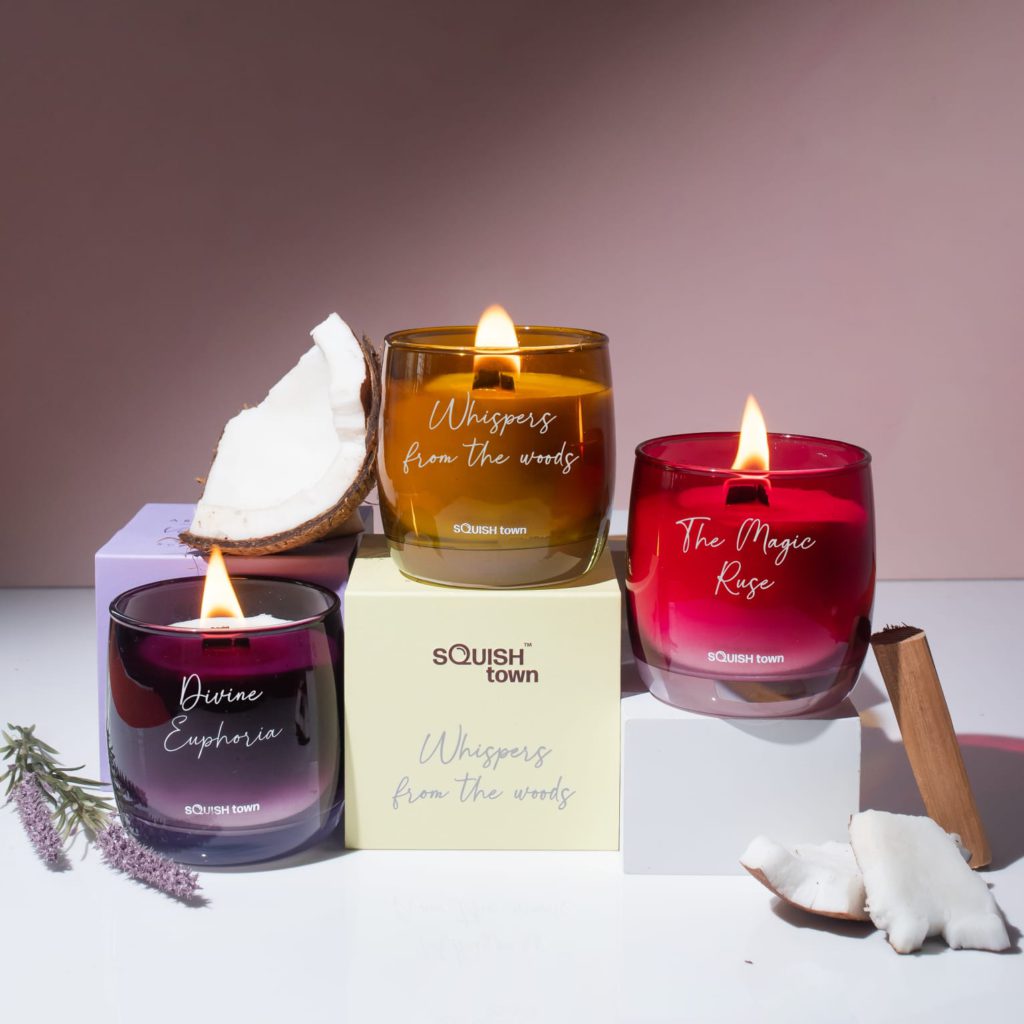 A world full of mesmerizing fragrances with premium bath and body products. Blended with the finest ingredients, sourced from all over the world, and lovingly packaged to perfection. With the transformative power of unique fragrances and the heavenly pleasure of bath & body care, every Squish Town product celebrates the balance of textures, color palettes, and presentation. The products are infused with the aroma of natural essential oils that soothe, invigorate and captivate your heart and soul. Squish town products are vegan, paraben-free formulated, and cruelty-free. They have newly launched India's First Virgin Coconut Soy Wax Candles. They are an addition to Squish Town's ever-expanding portfolio of Aromatherapy products made with natural essential oils.
Price- Rs 4050/- for a set of 3 candles
Shop here- Squish Town Candles
7. Luxurious and Handcrafted Bed Linen, Duvets and Cushion Covers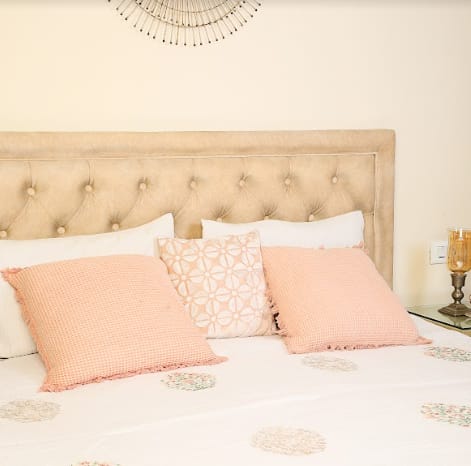 19 Sides is a classic yet luxurious bedding brand that fabricates Bed Linen, Duvets & Cushion Covers that are handcrafted to perfection. Ranging from understated to bold colour combinations, subtle to assertive accents, elegant embroideries to simple, delicate details, their collection offers impeccable quality, and versatility, enabling you to elevate the overall look of your home from ordinary to extraordinary! At 19 SIDES each collection is inspired by nature's elements creating a modern feel in earthy color tones, giving a complete makeover using various materials adding basic and contemporary embroidery, print as well as other modern methods. Their collection comprises bespoke bedspreads, quilts, cushion covers, home decor products, hotel banquet linen, napkins, specialized room, bathroom and spa linen.
Price: Rs 1500/– onwards
Where to buy: Instagram
8. A timeless piece- Watches by Jaipur Watch Company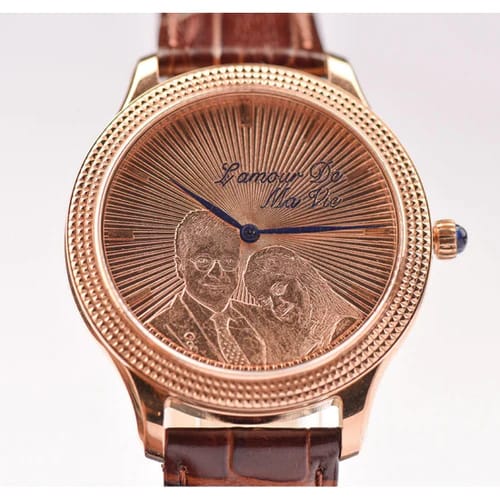 Pichwai Art Watch Collection Pichwai (pichvai) is a style of painting that originated over 400 years ago, in the town of Nathdwara in Rajasthan, India. Intricate and visually stunning, pichwai paintings depict tales from Lord Krishna's life. Originally, pichwai paintings were used to decorate the temple of Shrinathji in Nathdwara. Like several other traditional Indian art forms, the art of Pichwai is also dying, and requires recognition and revival. That is the reason Jaipur Watch Company has created the art of Pichwai on a Hand Painted watch dial in a Stainless Steel case.
Where to buy: WebsitePrice: 15000/- INR onwards
9.Mairaa Fine Jewellery by Amica Mohta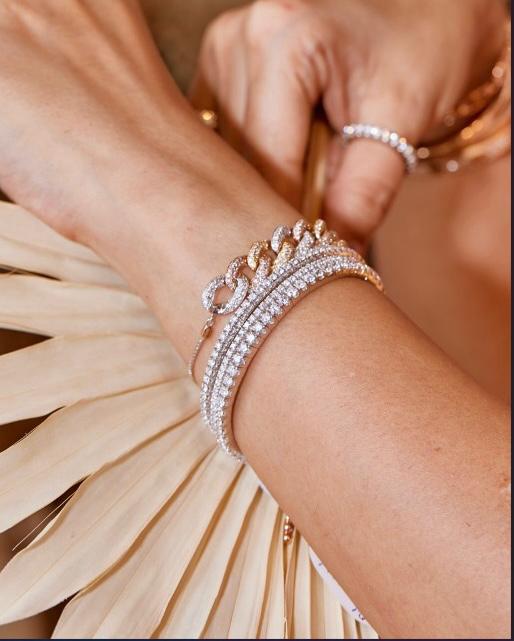 Mairaa Fine Jewellery is an elevated jewellery for the everyday, designed by Ambica Mohta. Mairaa Fine Jewellery is a stylish, chic jewellery brand in Mumbai which came into birth 2 decades ago. The brand believes in curating exceptional and exclusive designs which are handcrafted in 18kt gold/rosegold by their artisans with natural Diamonds, Rosecuts, Rubies, Emeralds, Pearls and all that you fancy. The brand takes great pride in creating designs with utmost precision and great care. They specialise in curating customised jewellery, certified solitaires, refurbishing the old jewels,baby jewellery and fine gifts.
10. Bespoke Resin Art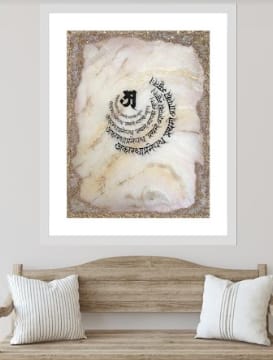 Madhavi Adalja, an artist that creates beautiful one-of-a-kind resin art masterpieces like wall art, tables, coasters, backsplashes, trays, and lots more. Madhavi is known to create unique home decor pieces. These beautiful pieces made of epoxy resin are handmade and add the perfect modern touch to any interior space. Resin, a delicate yet sturdy material makes it a great alternative to most materials out there. The earthy aesthetic and nature inspired elements makes the products unique and a must have.
Where to buy: Website
We hope you liked these gifting ideas. Wishing everyone a very Happy Diwali from Team Shaadifever. Comment and tell us your favourite Diwali gifts.