#bawal wedding-Vo dekhney mein kaisi seedhi saadhi lagti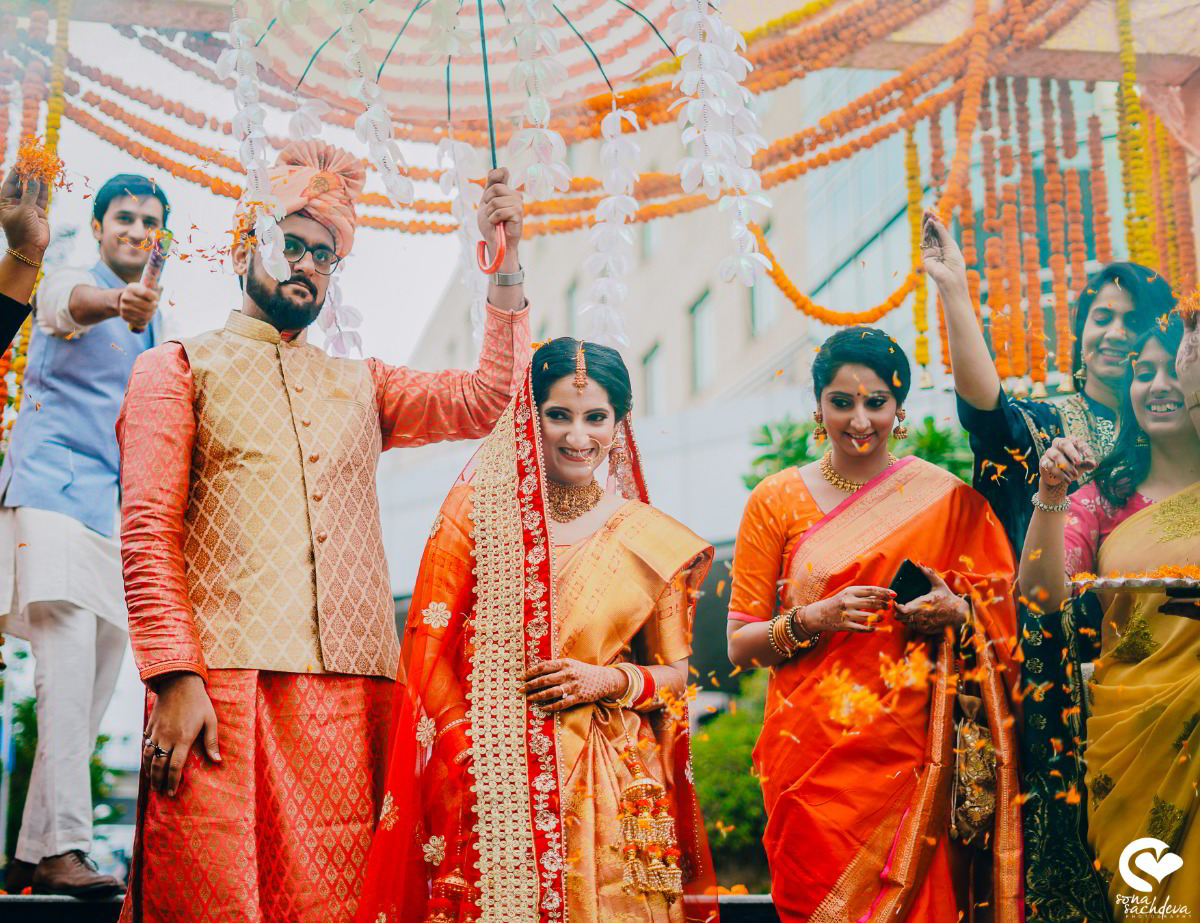 #bawal wedding- Once upon a time, in an office far far away… a boy and girl met for the first time in their lives, never to be separated again… Here is the stroy of our favorite couple –Isha & Aayush.
It took Aayush 6 months to ask Isha out but when he finally did, they just couldn't keep apart and it blossomed into a romance for the ages. Each time they met, they came closer and soon knew that they were in it for the long haul. Isha is a big chai lover and they hanged-out at Chaayos a lot. So Aayush chose Chaayos as the place to propose to her. After what seemed like an eternity (13 months) they got married.
It feels like any other love-story and it's just that. A love-story doesn't have to be different to be magical…
Wedding Functions
The entire function was held at ITC Fortune Select Global, Gurgaon (because there is no better city in India 😛 or simply that the bride and groom were too lazy to go somewhere else…) and the events were planned and managed by ShaadiFever.
The wedding hashtag was BAWAL– coz Bahal + Agarwal only makes Bawal!

Engagement & Sangeet:
The engagement was held at the Grand Ballroom. We chose a floral theme for decoration. The to-be bride wore a beautiful peach gown and the to-be groom wore a smart formal blue three-piece suit.
Aayush and Isha gave a splendid performance, for which they just practiced for a day or two.
Check out Isha and Aayush's sangeet performance:
Here is a link to the sister of the bride's solo performance:
Here is a link to the super popular flash mob at #bawal wedding.
Haldi: #bawal haldi was super special as our bride is allergic to normal haldi, so our team managed to get a custom made ubtan for her from Vya Naturals. As Isha is a punjabi, we went for phulkari dupattas as haldi favors for her bridesmaids. Isha wore a yellow saree with a bright red blouse and floral jewelry for her haldi ceremony.
Chooda Ceremony: Chooda ceremony is a special ritual at a Punjabi wedding, the bride's uncles make her wear red and white ivory teeth bangles and pray for her happy married life. The kaleeras are then tied by her sisters and friends as a token of love and a representation of life, that it is a cycle of ups and downs, make the most of it . Isha wore a banarsi suit for her chooda ceremony and managed to drop the kaleeras on Ila (Founder of Shaadifever).
Pheras:
It was a day wedding and the arrangements were made on the lawn. The decoration was minimal as the space looked beautiful bathed in the warm February afternoon sun. The color scheme was yellow and orange as it was Basant Panchamai, the decor had a lot of marigolds, because who doesn't love our desi yellow flowers.
The bride looked breathtakingly gorgeous in a red & golden upada silk saree paired with temple jewelry and the groom wore a beige indo-western sherwani. The gold work on the sherwani and the red sehra complemented the bride's saree well and the couple looked beautiful together.

Reception:
The reception was also held at the Grand Ballroom. The theme for the decor was gold and red, a false ceiling was created with gold hangings to enhance the look of the ballroom.
Isha wore a beautiful dabka work lehenga in mustard and red, paired with real gold jewelry. Aayush went in for a blue bandhgala, with a maroon pocket square to compliment Isha's outfit.
#bawal wedding video:
The entire wedding was a fun filled affair planned and managed by our founder- Ila Bahal. We are sharing this sweet tale on the couple's first anniversary. We wish them both a very happy wedding anniversary, filled with love and laughter.
Fashion Updates:
For fashion updates and wedding inspiration, follow us on-
Instagram: Shaadifever Facebook: Shaadifever