Festive Shopping Alert- MBFM!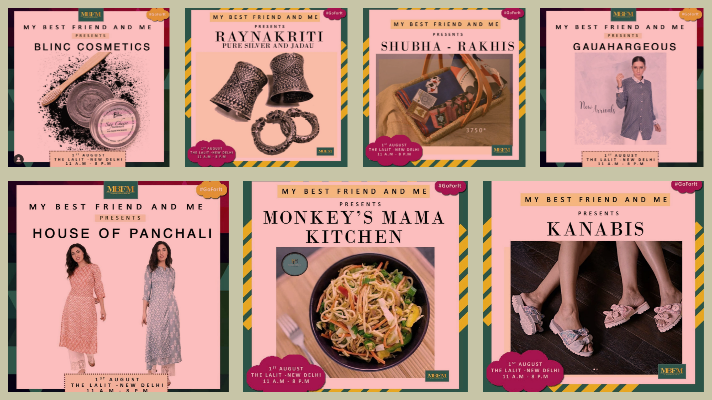 Rakhi is right around the corner and Delhi's leading lifestyle and fashion trunk show is back with its festive edition, shop for festive wear, pret couture, home decor, rakhis and much more at My Best Friend & Me
Date- 1st August'19
Location- The Lalit, Delhi
Join us at this exciting shopping spree and get a chance to meet Gauahar Khan!
Drop by and say 'Hello' to us and get awesome goodies and gifts from Shaadi Fever.
1) House of Panchali– Every collection released by HOP is centered around an issue that affects women in different walks of life. The purpose is to make it reach the masses through the medium of affordable fashion and not limit it to the certain groups in the society.
2) Kanabis – PETA approved Vegan footwear for women of all ages.
3) Blinc Vegan Homemade Cosmetics – Handcrafted Vegan and home-made luxury health and beauty products.
4) Gauaharageous by Gauahar Khan – High end fashion at affordable prices.
5) Pret Homes – House of designer home decor and gifting ideas .
6) Rock a Bella Creations – Funky, chic, unique, elegant and stunning pieces of jewelry, from modern to contemporary, traditional to lifestyle.
7) Raynakirti – Pure silver and Jadau jewelry for festive wear.
8) Monkey Mama's Kitchen – Customized meal boxes for exhibitions,play dates,birthday parties& catering for home get together's w/o any preservatives or artificial flavors.
9) Shubha Rakhis – Presents its latest range of rakhis in wide variety. Rings, sets, roli chawal &special kids selection boxes and gifts for the occasion.
10) Mio Borsa – 'Mio Borsa' meaning "my bag" are handbags curated out of love made of non leather products so cruelty free fashion.Specially crafted to suit different needs these bags come in chique styles and colours.
11) Jaykriti – A delightful potpourri of ethnic and contemporary clothes, hand block prints and vintage embroideries .
Follow Shaadi Fever for wedding ideas and inspiration.
To get featured on our blog, mail us your story at [email protected]