We enjoy freshly fallen snow and overstuffed stockings just as much as the next person, but nothing
beats the distinct holiday feeling these Christmas recipes provide. It's time to make fruitcakes
bursting with currants and cranberries, orange zest and apricots. Or to serve warm, spicy
gingerbreads and cinnamon Bundt drinks. Put on an ugly Christmas sweater and dig into a glorious
chocolate hazelnut mousse, or serenade your loved ones with peppermint ice cream cake carols and
promises of sticky toffee pudding. Whatever is at the top of your wish list this year—a laptop under
the tree, a marriage proposal, an adorable puppy, world peace—we hope you get it. Here's our wish
list, complete with all three recipes.
1.Christmas Special- Cinnamon Chocolate Chip Cake (Eggless) by Pâtissier Chef Sasha Wadhwa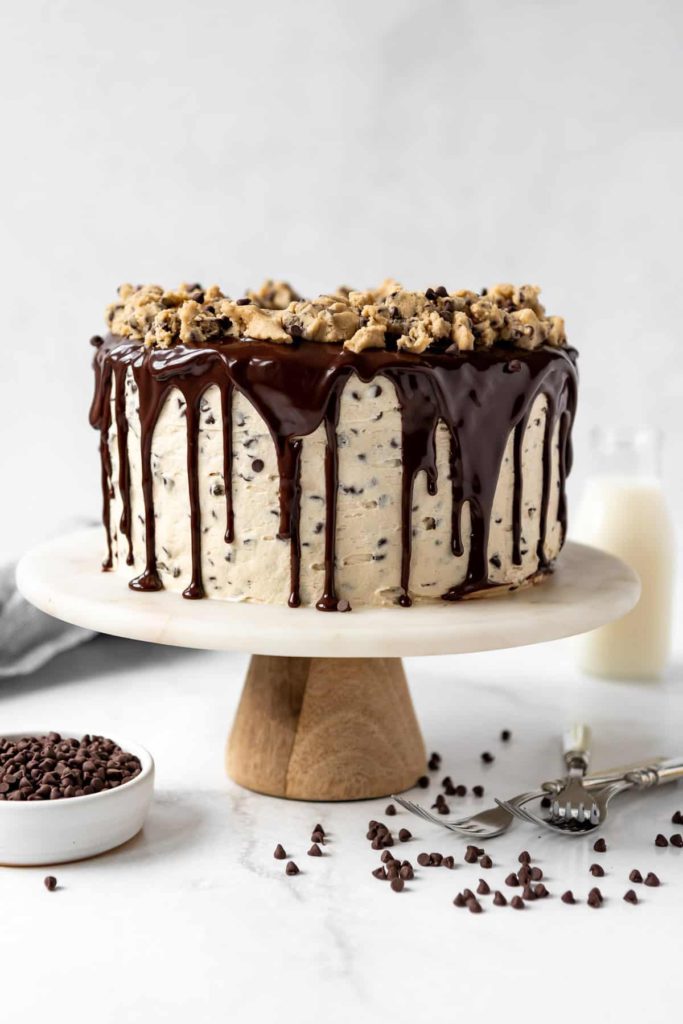 Baking Temperature – 150°C
Baking time – 35-40 minutes
Serves 4-6 people
Pan size – 7 inches (greased and lined with butter paper)
Ingredients
120 gms Softened Butter
50 gms Brown Sugar
60 gms Caster Sugar
1 tsp Vanilla Extract
140 gms All Purpose Flour (Maida)
½ tsp Baking Powder
¾ tsp Baking Soda
Pinch of Salt
1 tsp Cinnamon
120 ml Milk
1 tsp Vinegar
150 gms 55%-60% Couverture Chocolate pallets (or any good quality dark chocolate chopped into small chunks)
Method
Preheat your oven to 150°C
Add vinegar to the milk and set aside.
With an electric handheld mixer, or a whisk or spatula, beat the butter, brown sugar, and caster sugar, till the mixture turns fluffy, and brown sugar crystals have almost dissolved.
Add in the vanilla extract and mix well.
Sift the maida, baking powder, baking soda, cinnamon, and salt and a separate bowl and set aside.
Mix in the dry ingredients into the creamed butter and sugar, a little at a time, alternating with the milk + vinegar mixture.
Once the batter has come together, fold in the chocolate callets.
Pour the batter into a well greased and lined pan, and bake at 150°C for 35-40 minutes, or till the top and edges are golden brown, and a skewer inserted to check doneness comes out clean.
Once your cake is ready and cooled, de-mould from the pan and serve with any toppings of your choice. Enjoy!
2. Recipe of classic French Christmas cake, Mont Blanc by Akash Khandelwal, Sous Chef –Pastry & Bakery, Welcomhotel Sheraton,New Delhi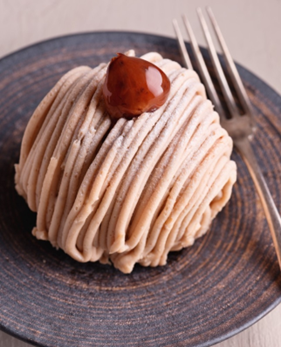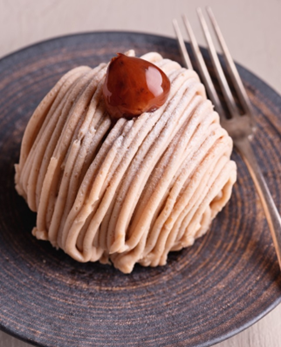 Recipe as follows :-
Meringue Swiss :
150 g Egg white
300 g Powder sugar
Custard:
1/4 liter of milk
1/2 vanilla pod
3 egg yolks
50 g powdered sugar
20 g corn flour
25 g butter
X-mas cake:
60 g butter
60 g icing sugar
60 g almond powder
55 g Flour T45
10 whole egg
7 g baking powder
5 cl brown rum
100g Mix nuts
Milk Chocolate Vermicelli:
200 g milk chocolate
200 g cream
Method: –
Meringue Swiss: –
Take a heavy bottom Pan and pour the water, let it acts as a hot water bath. Combine egg whites, sugar, in the bowl of a stand mixer. Set over steaming water, stirring and scraping constantly with a flexible spatula, until egg whites hold steady at 175°F (79°C), between 8 and 10 minutes.
Transfer to a stand mixer fitted with a whisk attachment and whip at high speed until meringue is glossy and beginning to ball up inside the whisk, about 5 minutes. Using a plain nozzle pipe the meringue over a hemisphere silicon mold or any round hemisphere surface and let it dry in a hot area or closed oven. This will act as a base for the Mont Blanc.
Custard:
Put the milk into a large pan and gently bring to just below boiling point. Meanwhile, in a large bowl, whisk the yolks, corn flour, sugar and vanilla. Gradually pour the hot milk mixture onto the sugar mixture, whisking constantly.
The mixture back into it. Heat gently, stirring with a wooden spoon until the custard is thickened. This will act as a filling inside the meringue dome which we created before.
X-Mas cake
In a medium bowl, whisk together the flour, almond powder salt and baking powder, and then set aside. Cream the butter and sugar in a stand mixer fitted with a whisk attachment until light and fluffy.
Add the eggs in one at a time while mixing at medium speed. Scrape the bowl down and beat until fully incorporated.
Mix until incorporated. Add the flour mixture and mixed nuts in and mix until combined. Bake at 160c for 30-35mins and apply rum directly after baking out from the oven.
Milk Chocolate vermicelli
Take a heavy bottom pan and boil the full fat cream and pour over the milk chocolate. Cover it using a cling film and use it next day and after whipping using a whisk attachment or hand whisk.
Assemble:-
Take a base of dried and fill it with the custard. Baked x-mas cake should be cut in a 5cm ring and place on the top of the previous base of meringue & custard. To cover the prepared cake. Pipe the whipped chocolate vermicelli using a vermicelli nozzle. Garnish with candied Christmas fruits.
3. GINGERBREAD LATTE by The Simple Brew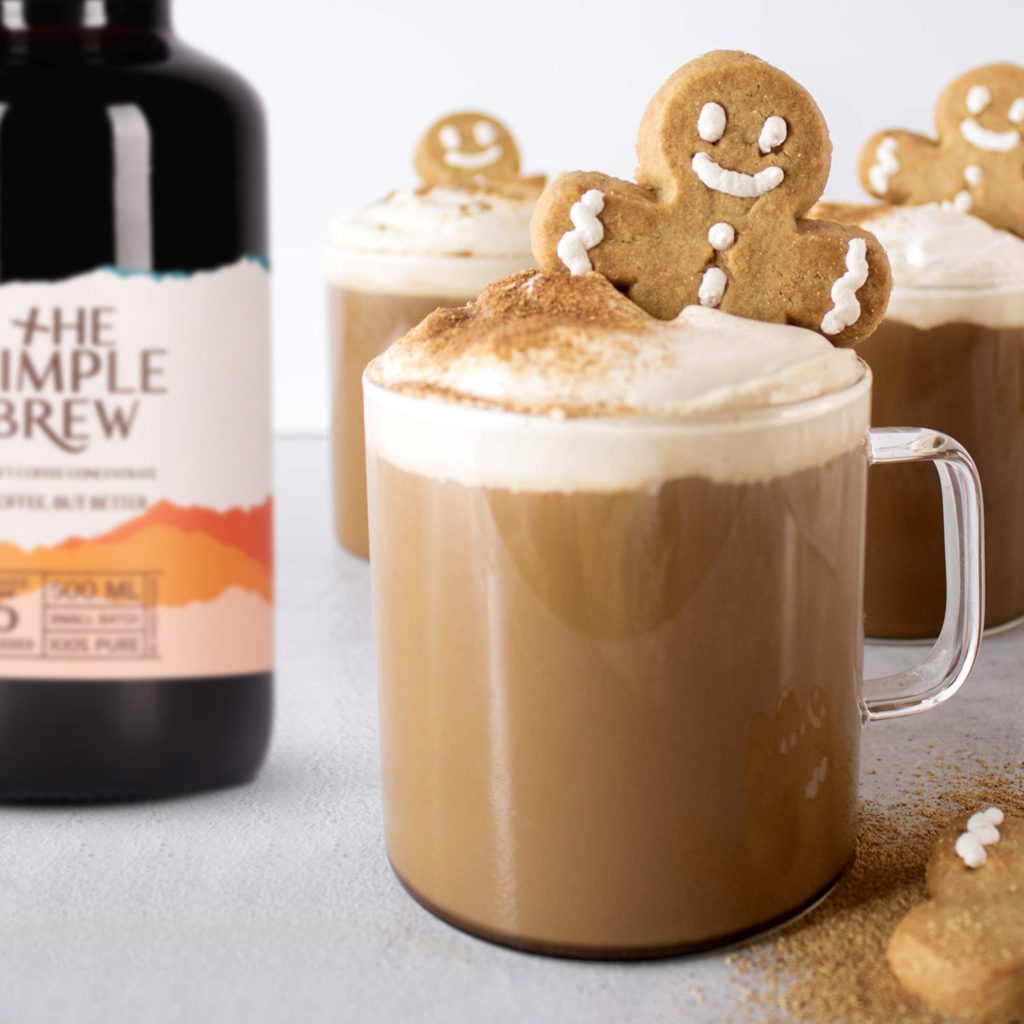 Ingredients:
60 ml Simple Brew Coffee Concentrate
200 ml milk of your choice
1 tbsp raw cocoa powder
1 date
Preparation:
Add TSB Coffee Concentrate and milk in a small pot
Heat over medium heat
Combine cocoa powder & date in a blender
Blend until the mix has a paste like consistency
Pour coffee + milk mix in the same blender
Blend until smooth
Pour into a mug and sprinkle cocoa powder on top
Enjoy!
Note – We recommend using the Double Brew for this recipe. It can also be prepared using the Single Brew depending on your preference.