Bridal bun ideas for 2020!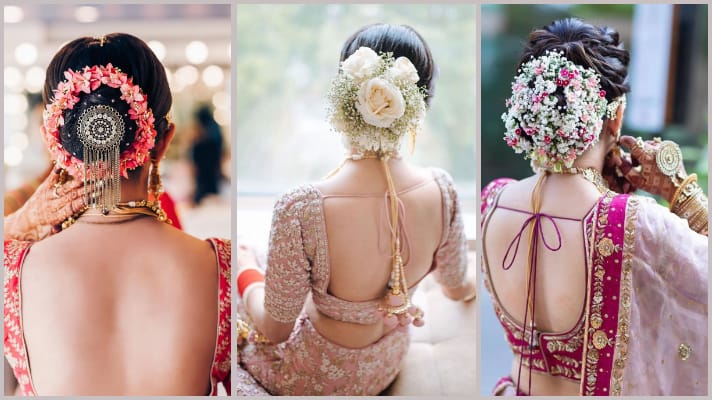 Looking for some bridal bun ideas? Shaadifever has it covered for you. While a bride is busy planning for other things like looking for a photographer, bridal outfit, jewellery and a lot of other things, hairstyle is something bride's tend to forget about.
Well it's your D-day and you must certainly look your best. So here we have some bridal bun ideas for you to bookmark.
From floral to chic buns, here are some ideas to keep in mind while planning your wedding look.
Roses and Baby's Breath
1. A floral bun with white roses and baby's breath is certainly our favourite.
2. Arent we simply loving this one, fresh rose petals with a hint of baby's breath.
3. Oh! for the love of red. This one is a classic, if you are looking for something chic and classic.
4. Loving the yellow roses with a touch of baby's breath. Perfect bun for a day wedding.
Mogras all the way!
5. A messy bun with mogras! this one has been trending all over the internet and is ceratinly a classic.
6. Roses with a classic gajra! A perfect bun for a traditional look.
7. Here is one gajra bun for the minimalistic bride.
Baby's breath overloaded
8. A beautiful updo with lots of baby's breath and pastel carnations.
9. When you are obsessed with baby's breath, opt for the one's in different colours and add it to a braided bun.
10. Simple yet elegant! Here is a bridal bun for the minimalistic bride.
11. An ombre floral bun!
Accessorize it right
12. Pastel bun with minimum accessories, we are totally loving this one.
13. Accesorize it right with such gorgeous embellishments!
14. Quirky alert! Add such quirky accessories to your brial hairdo and make a statement.
15. This one has our heart!A waterfall bun with rhinestones. Isn't is just gorgeous and perfect for a cocktail or your reception.
Read more:
For fashion updates and wedding inspiration, follow us on-
To get featured on our blog, mail us your wedding story at [email protected]